Overview
Although it shares its underpinnings, styling, and cabin with the regular Giulia sedan, the 2021 Alfa Romeo Giulia Quadrifoglio is a different beast thanks to one critical element: its twin-turbocharged 2.9-liter V-6 engine. This gem of a powerplant cranks out a hearty 505 horsepower and takes the Giulia's performance to 11. It rivals the BMW M3 and the Mercedes-AMG C63, and like the standard Giulia, the Quadrifoglio delivers thrilling handling and a drop-dead gorgeous exterior that really turns heads. Alfa Romeo isn't known for reliability, and over 40,000 miles with our long-term Giulia Quadrifoglio, we experienced quite a few quality issues. But this supersedan's sporting character and unrivaled beauty make it easier to overlook those flaws and enough to earn a spot on our Editors' Choice list.
What's New for 2021?
Alfa Romeo's flagship performance sedan carries over essentially unchanged for 2021. Some paint colors—Ocra GT Junior, Rosso GTA, Rosso Villa d'Este, and Verde Montreal—are the only new items on the Giulia Quadrifoglio's options sheet.
Pricing and Which One to Buy
Giulia Quadrifoglio – 
$76,345
We wouldn't add much to the Giulia's equipment list, as already boasts desirable features such as in-dash navigation, blind-spot monitoring, heated front seats, front and rear parking sensors, leather upholstery, and a 15-speaker Harman/Kardon audio system. We would want the $2200 Active Driver Assist package, though, as it comes with automatic high-beam headlamps, adaptive cruise control, lane-keeping assist, and a semi-autonomous driving mode.
Engine, Transmission, and Performance
With its rhapsodic twin-turbo 2.9-liter V-6 and a well-calibrated eight-speed automatic transmission, the rear-drive-only Giulia Quadrifoglio is a riot to pilot. The Italian-built, Ferrari-derived engine produces 505 horsepower, 443 pound-feet of torque, and a spine-tingling timbre that shames most rivals. Too bad a manual transmission isn't available. We're also sad to report that Alfa Romeo lives up to its reputation for unreliability, with our long-termer exhibiting several mechanical glitches. The Giulia's engine contains its excitement when cruising at low rpm and in top gear. Applying the throttle below 3000 rpm results in merely a hint of hesitation, but then the turbos spool up and power builds in a whirlwind of acceleration and a ripping exhaust note. The eight-speed automatic gearbox is decisive and quick to swap gears in the sportier drive modes, and the Giulia's supple chassis is a willing partner in high-spirited hijinks. The Alfa shines on track and handles daily driving well, with perfect damping and notable isolation from harsh impacts. The zestier driving modes don't compromise ride quality, either. And then there's the sensational steering setup: The thin-rimmed steering wheel feels like a blast from the past, offering feather-light effort, communicative feedback, and pleasingly quick response. The synthesis of these traits is what separates the Quadrifoglio from its main rivals and helped it win a comparison test against the M3.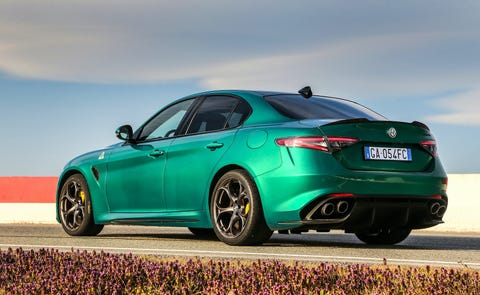 BY ERIC STAFFORD AND DREW DORIAN
O que achou?
comentários